3b. Configuring: Shapes and Colours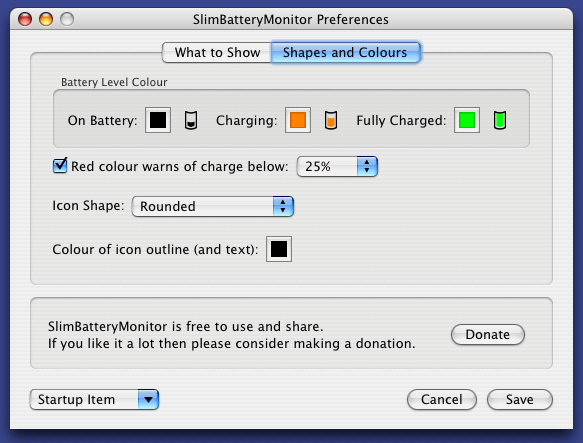 The shapes and colours tab allows you to customize the look of a displayed battery icon. Five different shapes are available, as selected with the icon shape menu. The shapes are pictured at right: rectangular, rounded with terminal, thin rectangular, rounded and horizontal. The thin rectangular shape takes up much less space than the other three icons, and is recommended for those trying to minimize the space occupied by their battery monitor. The horizontal display prints above the meter the text that would otherwise be displayed beside it.
Colours are selected here in the Battery Level Colours box. These colours indicate whether the system is on battery, charging or fully charged. By default the colours are set to match the colours on the status lamp of recent iBook and Powerbook power cords. You can select your own colour here: Clicking on the colour well (swatch) will open the standard system colour panel. Each colour well has its own preview icon, so you can immediately see what that colour will look like when displayed within the small icon.
The last setting of general interest in this tab is the red colour preference. If set, this preference causes the outline and fill colour of the icon to change to red when the battery's charge falls below the percentage you select. This helps to alert you to a low battery condition.
A few users have requested that they be able to customize the outline colour of the icon and the accompanying text. Most users will want to leave this set to the default black colour, but it is provided here for those who want a high degree of control over the appearance of the gauge.